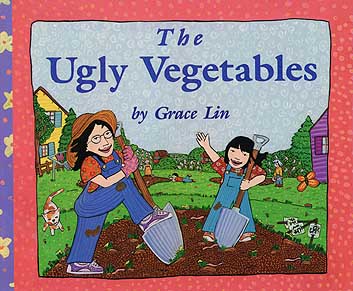 This week we are reading
Ugly Vegetables
by Grace Lin.
Ugly Vegetables
is a fun little story about a family that lives in a neighborhood where everybody plants a garden. The other residents of the neighborhood plant beautiful flower gardens, but our main character's mother plants a garden full of Chinese vegetables. The girls is disappointed, wanting a flower garden like everyone else, but her mom insists their garden will be great. In the end, of course, all the neighbors want to trade some flowers for the delicious soup made from the vegetables.
Grace Lin is a native Taiwanese, but moved to the US when she was in elementary school. She has written
many great books for young children
, many about her Taiwanese heritage and maintaining that heritage while living in the US. Some of her more famous books include
The Year of the Dog
,
Where the Mountain Meets the Moon
, and
Dim-Sum for Everyone.
You can see her other titles
here
.
Below is the weekly handout for this week. Remember to help your child review the spelling and vocabulary words when you have a chance. Please also remind your children that library books are due on Wednesday. This Friday, students will get to read the letters we received from our pen pals and begin crafting their replies. I know the kids are excited to get started.